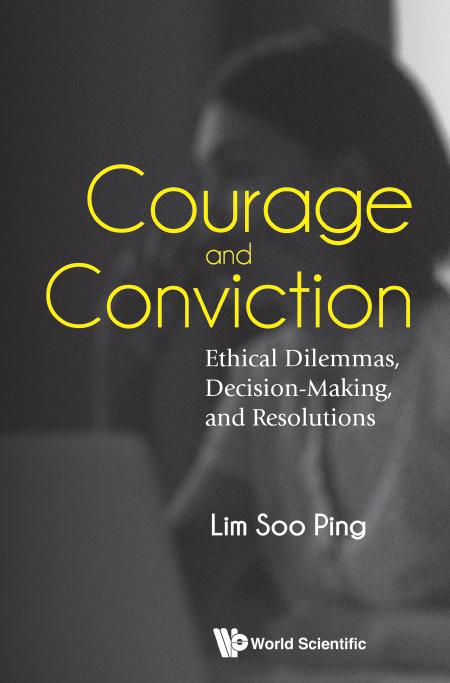 Courage and Conviction: Ethical Dilemmas, Decision-Making, and Resolution deals with the subject of ethical dilemmas in personal and work life. It discusses the nature of ethical dilemmas, moral reasoning and what it takes for effective decision-making when faced with an ethical dilemma. It provides a step-by-step resolution framework and a tactical approach for the handling of an ethical dilemma.
Have you ever found yourself in a situation where you would be breaching a law or policy if you help a person in need? Do you stand aside when someone needs assistance, thinking you have no obligation to lift a finger? Is there a way to deal with an ethical dilemma without fear of being mired in the consequences? How would you answer an inconvenient question?
Courage and Conviction: Ethical Dilemmas, Decision-Making, and Resolution looks at ethical dilemmas in the context of professional work, running corporations and public service. The book concludes by discussing a common ethical dilemma, namely, facing an inconvenient question and, in this context, providing a set of rules for decision-making by a person exercising authority.
The book is written in a readable and accessible style and is peppered with cases and stories to illustrate concepts. Each chapter ends with a bullet-point summary and one or two questions for readers to reflect on to deepen their understanding of concepts and their application.
It is intended for people in management or professions; public officers, students taking leadership, management, accounting, auditing or ethics courses. The book is also for general readers interested in knowing how to make better decisions when faced with ethical dilemmas.
According to the author, Lim Soo Ping, former Auditor-General of Singapore, "Through each ethical decision that we make despite the consequences, we strengthen our own character. Through each moral action that we take with courage and conviction, we make life better for others. When we add it all up over a lifetime, we would have helped create a more resilient and caring society for our children ... and their generation."
###
Courage and Conviction: Ethical Dilemmas, Decision-Making, and Resolution retails for US$28 / £25 (hardback). To order or know more about the book, visit http://www.worldscientific.com/worldscibooks/10.1142/11597.
About the Author
Lim Soo Ping was the Auditor-General of Singapore from 2007 to 2013. Prior to that, he served 31 years in the Singapore government, first in the Engineering Service, and then in the Administrative Service. Following his retirement in 2013, he joined the Singapore Management University (SMU) as a Professor of Accounting (practice) and served for six years.
Lim Soo Ping had also served on the boards of several government-linked entities such as Tan Tock Seng Hospital and The Esplanade Company. He also served on the governing board of St Joseph's Institution International School and was the first chairman of Equal-Ark Singapore, a charity that provides counselling support for children with learning disability and the elderly with dementia or clinical depression.
About World Scientific Publishing
As the largest privately-held Singapore publisher and a leading independent publisher of books and journals for the scholarly, research and professional communities, World Scientific collaborates with prestigious organisations like the Nobel Foundation and US National Academies Press to bring high quality academic and professional content to researchers and academics worldwide. The company publishes about 600 books annually and 140 journals in various fields. To find out more about World Scientific, please visit http://www.worldscientific.com.
For more information, contact Tay Yu Shan at communications@wspc.com.
---