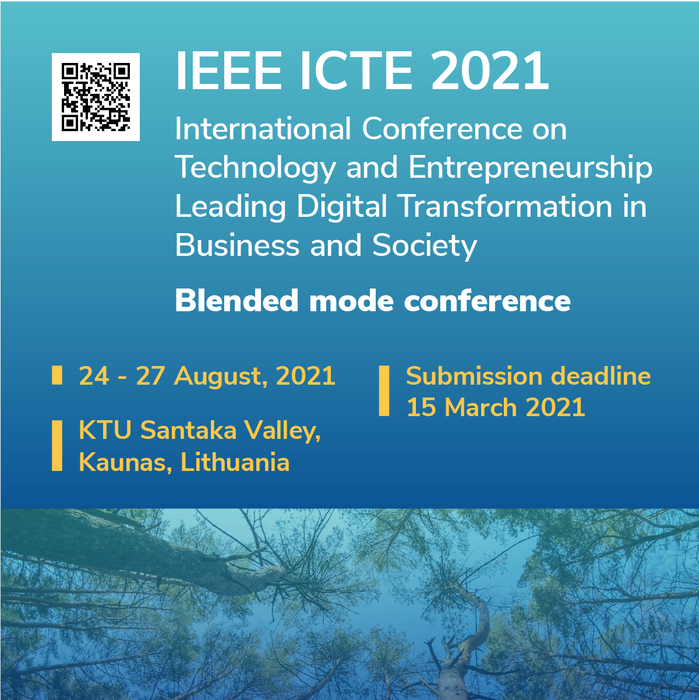 Digital transformation continues to provoke significant changes in individual lives and business. Such circumstances lead to our greater dependence on digital technologies and, at the same time, opens novel opportunities for entrepreneurship and innovation. Dynamic evolution of businesses requires new entrepreneurial approaches towards digitalisation strategies, organisational processes and capabilities, customer service, product development, and business models. Innovative decisions in digital technology applications for sustainable growth are a prerequisite for the majority of business markets, including healthcare, food, transportation, manufacturing, tourism, and many others. Especially, considering the COVID-2019 affected World environment, which emphasises sustainability as a priority in business processes, consumption, and technologies used.
The 4-day conference consists of:
Day 1: Research forum representing keynote speeches of acknowledged scholars – Prof. David John Teece (Haas Business School, UC Berkeley), Prof. Michael Wade (IMD Global Center for Digital Business Transformation) and Prof. Max von Zedtwitz (Copenhagen Business School and Kaunas University of Technology). The forum will host a Meet the Editors session featuring editors of well-established academic journals: IEEE Transactions in Engineering Management, R&D Management, Technovation, and Baltic Journal of Management. Furthermore, it will provide a venue for presenting and discussing research results within seven thematic tracks.
The conference will be of utmost relevance to:
Researchers active in entrepreneurship, innovation and technology management knowledge domains, who are willing to share their research results on the wide range of topics related to leading digital transformation in business and society.
Innovators, entrepreneurs and industry leaders, representing diverse types of companies and industries, especially those, which are highly impacted by digitalisation. They are welcome to share their experiences and cases, industry trends and issues arising in business and society.
Researchers and practitioners who are enthusiastic about learning and technology development and pursue new ideas about possible research streams and business development.
---