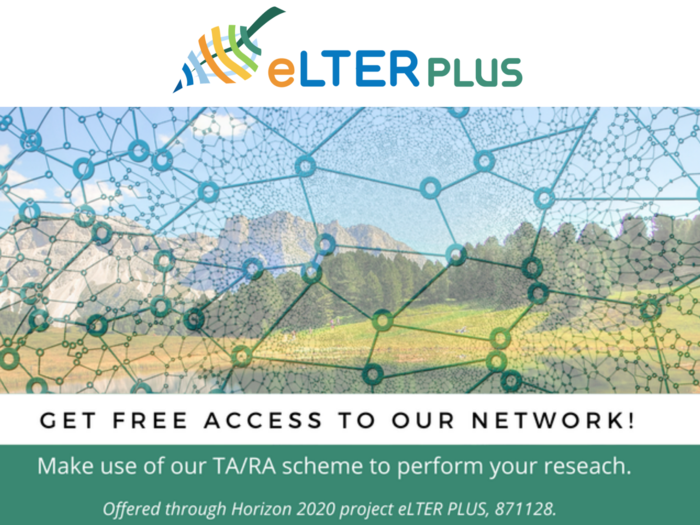 eLTER announces its call for funded Transnational Access (TA) and Remote Access (RA) for scientists working in the areas of biodiversity, biogeochemistry, hydrology or socio-ecological research.
All 39 sites in 19 countries are equipped with state-of-the-art instrumentation to enable comprehensive ecological measurement and experimental campaigns. The long-term data on those sites is available to compare with or to be used as a reference. Likewise, state-of-the-art socio-economic research is conducted at several of them. IT facilities are provided for data upload, storage and processing. Financial support is available. For a full list of the sites, which were selected to represent all European biogeographic zones, please visit the eLTER PLUS TA/RA call for proposals webpage.
For its TA/RA scheme, eLTER PLUS has predefined a set of research-questions within the following thematic categories:
Drivers, trends and states of biodiversity Carbon and nitrogen cycling in ecosystems;
Water stress in ecosystems;
Socio-ecology;
Proposers may address one or more of our recommended research questions within this framework.
Likewise, users are encouraged to define their own research questions to demonstrate further options to utilise the eLTER Research Infrastructure.

The call provides two types of access: the option Transnational Access (TA) enables in-person visits (e.g. to collect and analyse data), whereas Remote Access (RA) enables the "remote users" to specify what activities could be implemented on their behalf by the local teams.

The selection criteria will mainly consider the scientific excellence of the proposed work, the involvement of promising young scientists at the start of their career, the feasibility of the proposed application in accordance with the site manager, as well as the formal eligibility criteria in line with European Commission H2020 access regulations. A selection and review panel will carefully evaluate the received proposals in order to enable transparent, fair and impartial review of the applications.
To apply for the call, please visit the 'How to apply' section of the call web page; there you can find the necessary application documents, as well as additional information on the administrative, operational and financial procedures.
Deadline for submissions: 31 January 2022
Evaluation and notification of outcome: 15 March 2022
For more information visit the TA-RA page on its website.
---