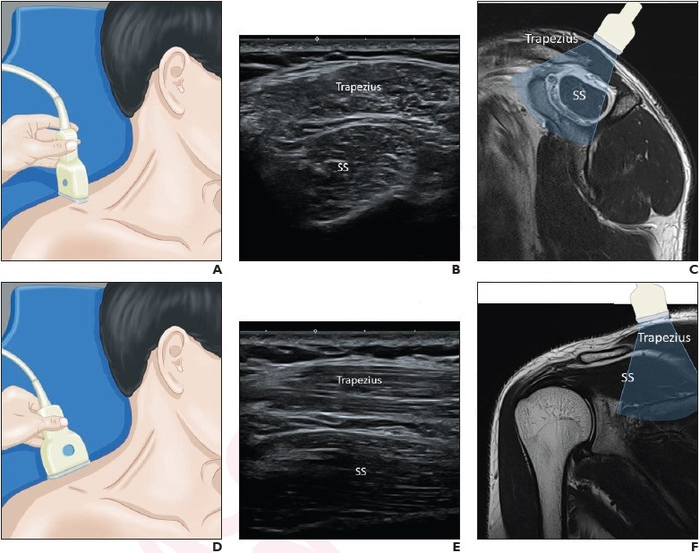 Leesburg, VA, January 21, 2022—According to an article in ARRS' American Journal of Roentgenology (AJR), preoperative shear wave elastography (SWE) can play a complementary role with existing imaging as a prognostic marker for achieving successful rotator cuff repair.
Noting that SWE-derived elasticity is higher in patients with insufficient rotator cuff repair, "elasticity ratio independently predicted insufficient repair," wrote corresponding author Eun Kyung Khil of Hallym University Dongtan Sacred Heart Hospital in Korea.
From May 2019 to January 2021, Khil's team prospectively studied 74 patients (37 men, 37 women; mean age, 63.9 years) who underwent rotator cuff repair, including preoperative shoulder MRI and investigational shoulder ultrasound using SWE. The researchers measured mean elasticity of the supraspinatus and trapezius muscles, then calculated the elasticity ratio between the two.
Ultimately, preoperative elasticity ratio of the supraspinatus muscle—determined via SWE—was significantly higher in patients with insufficient rather than sufficient repair (3.66 vs. 1.83) and predicted insufficient repair (odds ratio=15.6) independently of tear size and muscle characteristics assessed by MRI and grayscale ultrasound.
Having measured SWE values in the supine position, rather than in a sitting position, to decrease tone, stiffness, and gravitational load of the trapezius muscle, "future studies are warranted to assess for differences in SWE values between the two positions," the authors of this AJR article acknowledged.
An electronic supplement to this AJR article is available here.
---
North America's first radiological society, the American Roentgen Ray Society (ARRS) remains dedicated to the advancement of medicine through the profession of medical imaging and its allied sciences. An international forum for progress in radiology since the discovery of the x-ray, ARRS maintains its mission of improving health through a community committed to advancing knowledge and skills with the world's longest continuously published radiology journal—American Journal of Roentgenology (AJR)—the ARRS Annual Meeting, InPractice magazine, topical symposia, myriad multimedia educational materials, as well as awarding scholarships via The Roentgen Fund®.
MEDIA CONTACT:
Logan K. Young, PIO
44211 Slatestone Court
Leesburg, VA 20176
703-858-4332
---
Journal
American Journal of Roentgenology
Method of Research
Observational study
Subject of Research
People
Article Title
Utility of Preoperative Shear Wave Elastography of the Supraspinatus Muscle for Predicting Successful Rotator Cuff Repair: A Prospective Observational study, With MRI Correlation
Article Publication Date
19-Jan-2022
COI Statement
The corresponding author was supported by only the Hallym University Research Fund (HURF-2019-66).