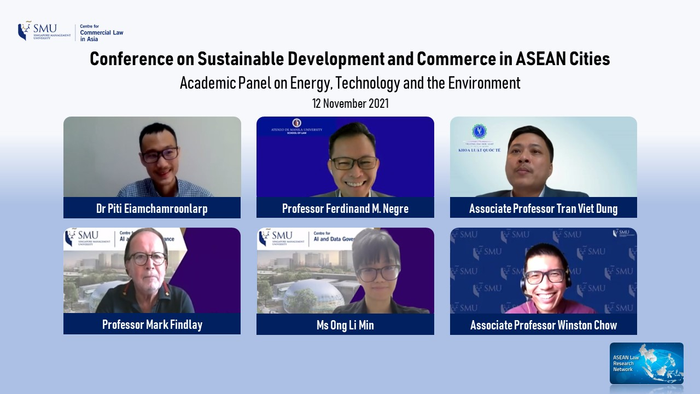 By Sheryl Lee
SMU Office of Research & Tech Transfer – Over the last three decades, urban populations in Southeast Asia have swelled by some 190 million inhabitants, more than the populations of Cambodia, Malaysia, Laos, Thailand and Myanmar combined.
Such massive urbanisation comes with a host of problems: pollution, inequality, social ills, ever-expanding resource footprints and more – but cities are also powerhouses of economic growth, contributing approximately 80% of global gross domestic product (GDP).
As technology continues to reshape urban life, Southeast Asia's emerging economies are particularly well-placed to take advantage of smart city solutions that can unlock new levels of economic competitiveness and quality of life, SMU faculty and academics from Thailand, Vietnam and the Philippines shared in a webinar at the Sustainable Development and Commerce in ASEAN Cities Conference held in November 2021.
The panel, featuring Associate Professor Winston Chow from the School of Social Sciences and Professor Mark Findlay from the Yong Pung How School of Law, as well as research associate Ong Li Min at the Centre for AI and Data Governance, delved into a diverse range of environmental and social sustainability-related topics including electricity networks, intellectual property, smart cities and AI development.
Smaller, smarter, sustainable cities
In his introductory speech, Professor Chow referenced the recently concluded Conference of Parties (COP26) global climate summit, where world leaders, scientists and activists gathered to debate and discuss climate adaptation and mitigation strategies that might steer the world towards a targeted 1.5 degree Celsius of warming.
An urban climatologist and contributor to the Intergovernmental Panel on Climate Change's (IPCC) latest assessment report, Professor Chow pointed out that successfully implementing such climate strategies in Southeast Asia would require "well-functioning legal frameworks to be in place, in conjunction with very clearly defined mandates, rights and responsibilities."
"The problem, though, is that cities, especially those within ASEAN, are complicated by an extremely dynamic environment, in terms of growth, business development, technological access and institutional governance," he said.
One approach local governments are adopting to solve this problem is to simply scale it down. In Vietnam's Ho Chi Minh City, policymakers are implementing a "small city network concept," that aims to cluster many satellite settlements instead of having a single large city, Associate Professor Tran Viet Dung from the Ho Chi Minh City University of Law shared.
Professor Dung added that the Vietnamese government was "forging ahead with smart city development initiatives" to achieve three main outcomes: a more competitive economy, a more sustainable environment, and a higher quality of life.
That could look like public utility services implementing Internet of Things to increase the efficiency and quality of water and energy supplies, or installing surveillance cameras with facial recognition capabilities to improve public safety, he said.
Adding to the discussion, Dr Piti Eiamchamroonlarp from Chulalongkorn University cautioned that such transitions to technologies deemed smarter and cleaner could backfire without the right energy infrastructure in place. For instance, the adoption of electric vehicles in Bangkok might end up increasing electricity consumption and outsourcing emissions to other areas instead.
"That's why we are talking about [peer-to-peer] electricity trading… so local people, those living in Bangkok, can jump in and participate in the industry as consumer and producer," he said.
"The system of [peer-to-peer electricity trading] is a great technology to bring into the Philippines," Professor Ferdinand Negre from Ateneo de Manila University agreed.
But while the prospect is a desirable one, with potential to enable smarter and more sustainable cities, its set-up has met with practical problems that have yet to be solved, he added. At present, installation costs remain prohibitively expensive, with the selling price of energy insufficient to justify them.
Not just smart cities, but also wise ones
One key stumbling block to the vision of smart societies is lack of trust between citizens and authorities, the panellists agreed. For instance, Vietnam's smart city plans have been perceived as "tools for the government to control people," Professor Dung said.
Widening the discussion from digital privacy, Professor Findlay said he views such obstacles in Southeast Asia as opportunities for the region to add to the Western-dominated discourse of ethics in technology.
"If you look at ethical frameworks for regulating AI worldwide, they mainly stemmed from Silicon Valley and big tech, where concepts like compassion, communal thinking and communal engagement, are largely left out," he said. "This gives us the opportunity to look at these things [from a] different perspective."
Singapore is one case in point, according to Ong, whose current research with Professor Findlay aims to tap on Singapore's 'kampung spirit', a traditional village sentiment of neighbourliness, community and solidarity, to integrate AI into community and build "wise cities" instead of just smart ones.
Smart cities are "too fascinated by technology and data infrastructures and not [focused enough] on social infrastructure," she said. "[The problem with] mass production of smart systems is that we could end up with replicas of cities that have lost their original cultural connection, instead of the possible vision of enabling unique, place-based and information-rich cities."
Compared with the notion of smart cities, the emerging concept of wise cities draws more deeply from history and culture, Ong added. "In addition to explicit knowledge, wise cities also respect the tacit knowledge of communities."
Ong said her research was partly inspired by the prolonged social restrictions that have plagued Singapore under the pandemic.
"How do we maintain social bonding during these times when we're in isolation?" she said. "It's kind of an imperative for us as researchers to explore how the digital [can also] be a medium for us to promote social sustainability."
---