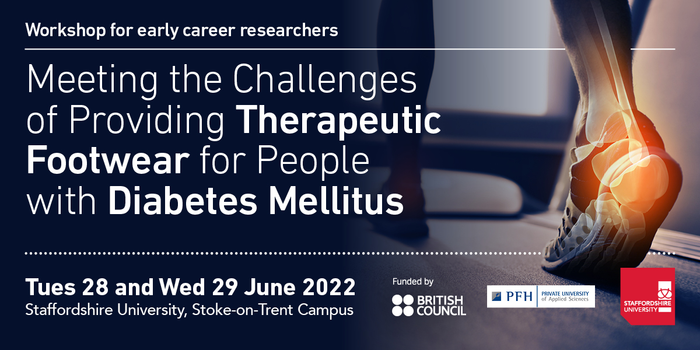 Researchers who want to learn more about therapeutic footwear for people with diabetes are being invited to take part in a free two-day workshop at Staffordshire University.
Staffordshire University is partnering with PFH Private Hochschule Göttingen, University of applied sciences in Germany, to host the British Council funded workshop at Staffordshire University's Stoke-on-Trent campus.
Taking place on Tuesday 27 and Wednesday 28 June 2022, the workshop is open to researchers and academics at recognised research institutions in the UK or Germany with an interest in therapeutic footwear. Where applications are successful, travel and accommodation costs will be covered.
Diabetic foot disease is a considerable public health problem; people with diabetes mellitus are six times more likely to undergo an amputation than people without diabetes. Approximately 85% of amputations are preceded by an ulcer and therapeutic footwear is necessary to reduce ulcers and enable patients to continue with their everyday lives.
Dr Aoife Healy, the UK lead for the workshop, explained "Within the Centre for Biomechanics and Rehabilitation Technologies at Staffordshire University we have extensive expertise in diabetic foot complications, which is a growing issue globally, and this workshop is a great opportunity to bring together early career researchers from various background with the aim of establishing new research links and to develop research capacity within this area to improve the lives of people with diabetes. We are also eager to develop a partnership with Professor Braatz and his team at PFH Private Hochschule Göttingen."
The workshop will include lectures and presentations, networking and career development sessions, and a challenge prize. One of the aims is to establish a network of researchers from a range of backgrounds who are passionate about improving the access to and quality of therapeutic footwear for people with diabetes. Participants will be supported to work together on future projects which will have a global impact to reduce mortality and morbidity and improve the quality of life for people with diabetes.
Professor Frank Braatz, the German lead for the workshop, added "We are looking forward to the workshop and I am sure that many joint project ideas and projects will emerge from this meeting with committed young scientists."
Anyone wanting to participate in the workshop is encouraged to complete the application form here by 5pm BST Fri 27 May 2022.
Participants are (1) required to hold a research or academic position at a recognised research institution in the UK or Germany; (2) expected to have a PhD or equivalent research experience; and (3) expected to have research experience in/or are interested in researching therapeutic footwear for people with Diabetes Mellitus. For more details contact Dr Aoife Healy (a.healy@staffs.ac.uk) or Professor Frank Braatz (braatz@pfh.de)
Meeting the Challenges of Providing Therapeutic Footwear for People with Diabetes Mellitus is supported by a Researcher Links Challenge Grants UK-Germany Public Health workshops grant from the British Council. The Researcher Links Challenge Grants UK-Germany Public Health workshops grants support interdisciplinary collaboration activities between the UK and Germany in the field of public health.
Researcher Links Challenge Grants UK-Germany Public Health workshops is part of a wider British Council programme called Going Global Partnerships, which builds stronger, more inclusive, internationally connected higher education and TVET systems.
For more information, please visit www.britishcouncil.org/going-global-partnerships.
---