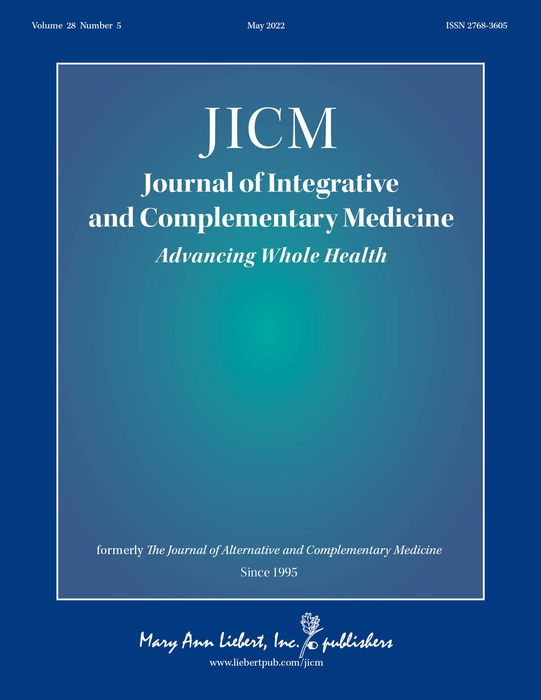 Journal of Integrative and Complementary Medicine (JICM) is honored to announce our new partnership agreement with the Society for Integrative Oncology (SIO). SIO is the premier multi-disciplinary professional organization for integrative oncology, whose mission is to advance evidence-based, comprehensive, integrative healthcare to improve the lives of people affected by cancer. This prominent partnership between JICM and SIO is one that will further the connections within the integrative health research community and benefit all those interested in integrative oncology.
"This is a wonderful new benefit for our members," states SIO President Dr. Linda Carlson of the new partnership, "JICM (formerly JACM) has always been a reliable source of current research findings, and now all our members can access it at a reasonable rate, and better yet, benefit from discounted Open Access publishing fees in the journal. It's a win/win as we get both discounted access to high-quality evidence, and an opportunity to publish our findings broadly in this reputable journal."
"SIO has always been a guarantor of the highest research quality, integrity and innovation in the field of integrative oncology," states JICM Editor-in-Chief Holger Cramer, PhD. "The partnership between SIO and JICM is therefore a logical step to jointly advance whole health, integrative oncology and evidence-based care in the best sense of the word. It is also a personal delight for us and a benefit for JICM that is looking forward to further high-profile submissions, as well as for SIO members who benefit from discounted subscription and open access rates."
"Mary Ann Liebert, Inc., publishers are thrilled to announce this new partnership between the Society of Integrative Oncology and our Journal of Integrative and Complementary Medicine. This collaboration will further the missions of both organizations by providing discounted subscriptions and a publishing home to SIO members, as well as worldwide exposure of the latest research in integrative oncology through our journal readership" states Bob Vrooman, Director, Business Development for Mary Ann Liebert, Inc., publishers.
About the Journal
Journal of Integrative and Complementary Medicine (JICM) is the leading peer-reviewed journal providing scientific research for the evaluation and integration of complementary and integrative medicine into mainstream medical practice. The Journal is under the editorial leadership of Editor-in-Chief Holger Cramer, PhD, University of Duisburg-Essen, and other leading investigators.
About the Publisher
Mary Ann Liebert, Inc., publishers is known for establishing authoritative peer-reviewed journals in promising areas of science and biomedical research. A complete list of the firm's more than 100 journals, books, and newsmagazines is available on the Mary Ann Liebert, Inc., publishers website.
---
Journal
Journal of Integrative and Complementary Medicine
Method of Research
News article
Subject of Research
Not applicable