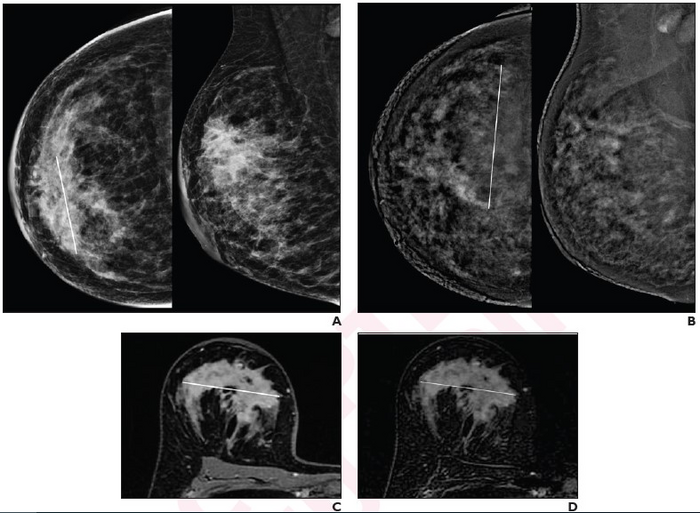 Leesburg, VA, June 22, 2022—According to ARRS' American Journal of Roentgenology (AJR), contrast-enhanced mammography (CEM) may be a useful alternative test for neoadjuvant therapy (NAT) response assessment in patients with breast cancer who are unable to undergo MRI.
"After NAT for breast cancer, CEM and MRI yielded comparable assessments of lesion size (both slightly overestimated vs pathology) and RECIST categories, and no significant difference in specificity for pathologic complete response," wrote corresponding author Rubina Manuela Trimboli of IRCCS Humanitas Research Hospital in Milan, Italy. Noting that MRI had higher sensitivity for pathologic complete response, "delayed CEM acquisition may help detect residual ductal carcinoma in situ (DCIS)."
Trimboli and team's prospective study included 51 patients (mean age, 46 years) with biopsy-proven breast cancer from May 2015 to April 2018, who were candidates for NAT. Patients underwent both CEM and MRI before, during, and after NAT: pre-NAT, mid-NAT, and post-NAT, respectively. Post-NAT CEM included a 6-minute delayed acquisition. One breast radiologist with experience in CEM reviewed CEM examinations; one breast radiologist with experience in MRI reviewed MRI examinations.
Compared with pathology, post-NAT CEM, MRI, and delayed CEM systematically overestimated residual tumor size by 0.8 mm, 1.9 mm, and 1.2 mm, respectively. For detecting pathologic complete response by post-NAT imaging, sensitivity and specificity were 81% and 83% for CEM, 100% and 86% for MRI, and 81% and 89% for delayed CEM.
"While MRI remains the preferred test for NAT monitoring," the authors of this AJR article concluded, "the findings support CEM as a useful alternative when MRI is contraindicated or not tolerated."
---
North America's first radiological society, the American Roentgen Ray Society (ARRS) remains dedicated to the advancement of medicine through the profession of medical imaging and its allied sciences. An international forum for progress in radiology since the discovery of the x-ray, ARRS maintains its mission of improving health through a community committed to advancing knowledge and skills with the world's longest continuously published radiology journal—American Journal of Roentgenology—the ARRS Annual Meeting, InPractice magazine, topical symposia, myriad multimedia educational materials, as well as awarding scholarships via The Roentgen Fund®.
MEDIA CONTACT:
Logan K. Young, PIO
44211 Slatestone Court
Leesburg, VA 20176
703-858-4332
---
Journal
American Journal of Roentgenology
Method of Research
Observational study
Subject of Research
People
Article Title
Contrast-Enhanced Mammography Versus MRI in the Evaluation of Neoadjuvant Therapy Response in Patients With Breast Cancer: A Prospective Study
Article Publication Date
22-Jun-2022