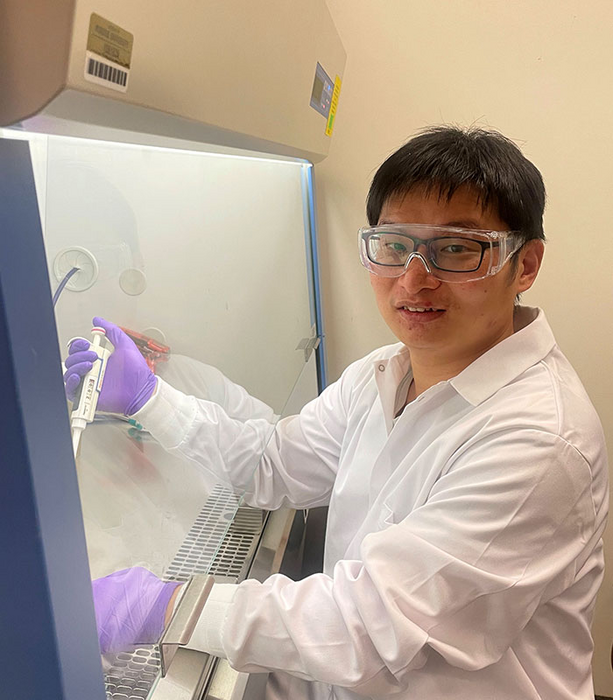 WEST LAFAYETTE, Ind. – A Purdue University chemical engineer has improved upon traditional methods to produce off-the-shelf human immune cells that show strong antitumor activity, according to a paper published in the peer-reviewed journal Cell Reports.
Xiaoping Bao, a Purdue University assistant professor from the Davidson School of Chemical Engineering, said CAR-neutrophils, or chimeric antigen receptor neutrophils, and engraftable HSCs, or hematopoietic stem cells, are effective types of therapies for blood diseases and cancer. Neutrophils are the most abundant white cell blood type and effectively cross physiological barriers to infiltrate solid tumors. HSCs are specific progenitor cells that will replenish all blood lineages, including neutrophils, throughout life.
"These cells are not readily available for broad clinical or research use because of the difficulty to expand ex vivo to a sufficient number required for infusion after isolation from donors," Bao said. "Primary neutrophils especially are resistant to genetic modification and have a short half-life."
Bao has developed a patent-pending method to mass-produce CAR-neutrophils from human pluripotent stem cells (hPSCs), that is, cells that self-renew and are able to become any type of human cell. The chimeric antigen receptor constructs were engineered to express on the surface of the hPSCs, which were directed into functional CAR-neutrophils through a novel, chemically defined protocol.
The method was created in collaboration with Qing Deng at Purdue's Department of Biological Sciences, Hal E. Broxmeyer, now deceased, at Indiana University School of Medicine, and Xiaojun Lian at the Pennsylvania State University.
"We developed a robust protocol for massive production of de novo neutrophils from human pluripotent stem cells," Bao said. "These hPSC-derived neutrophils displayed superior and specific antitumor activities against glioblastoma after engineering with chimeric antigen receptors."
Bao disclosed the innovation to the Purdue Research Foundation Office of Technology Commercialization, which has applied for an international patent under the Patent Cooperation Treaty system of the World Intellectual Property Organization. The innovation has been optioned to an Indiana-headquartered life sciences company.
"We will also work with Dr. Timothy Bentley, professor of neurology and neurosurgery,and his team at the Purdue College of Veterinary Medicine to run clinical trials in pet dogs with spontaneous glioma," Bao said.
This research project was partially supported by the Davidson School of Chemical Engineering and College of Engineering Startup Funds, Purdue Center for Cancer Research, Showalter Research Trust and federal grants from the National Science Foundation and National Institute of General Medical Sciences.
About Purdue University
Purdue University is a top public research institution developing practical solutions to today's toughest challenges. Ranked in each of the last four years as one of the 10 Most Innovative universities in the United States by U.S. News & World Report, Purdue delivers world-changing research and out-of-this-world discovery. Committed to hands-on and online, real-world learning, Purdue offers a transformative education to all. Committed to affordability and accessibility, Purdue has frozen tuition and most fees at 2012-13 levels, enabling more students than ever to graduate debt-free. See how Purdue never stops in the persistent pursuit of the next giant leap at https://stories.purdue.edu.
About Purdue Research Foundation Office of Technology Commercialization
The Purdue Research Foundation Office of Technology Commercialization operates one of the most comprehensive technology transfer programs among leading research universities in the U.S. Services provided by this office support the economic development initiatives of Purdue University and benefit the university's academic activities through commercializing, licensing and protecting Purdue intellectual property. The office is housed in the Convergence Center for Innovation and Collaboration in Discovery Park District at Purdue, adjacent to the Purdue campus. In fiscal year 2021, the office reported 159 deals finalized with 236 technologies signed, 394 disclosures received and 187 issued U.S. patents. The office is managed by the Purdue Research Foundation, which received the 2019 Innovation and Economic Prosperity Universities Award for Place from the Association of Public and Land-grant Universities. In 2020, IPWatchdog Institute ranked Purdue third nationally in startup creation and in the top 20 for patents. The Purdue Research Foundation is a private, nonprofit foundation created to advance the mission of Purdue University. Contact otcip@prf.org for more information.
Writer: Steve Martin, sgmartin@prf.org
Source: Xiaoping Bao, bao61@purdue.edu
---
ABSTRACT
Engineering chimeric antigen receptor neutrophils from human pluripotent stem cells for targeted cancer immunotherapy
Yun Chang, Ramizah Syahirah, Xuepeng Wang, Gyuhyung Jin, Sandra Torregrosa-Allen, Bennett D. Elzey, Sydney N. Hummel, Tianqi Wang, Can Li, Xiaojun Lian, Qing Deng, Hal E. Broxmeyer, Xiaoping Bao
Neutrophils, the most abundant white blood cells in circulation, are closely related to cancer development and progression. Healthy primary neutrophils present potent cytotoxicity against various cancer cell lines through direct contact and via generation of reactive oxygen species. However, due to their short half-life and resistance to genetic modification, neutrophils have not yet been engineered with chimeric antigen receptors (CARs) to enhance their antitumor cytotoxicity for targeted immunotherapy. Here, we genetically engineered human pluripotent stem cells with synthetic CARs and differentiated them into functional neutrophils by implementing a chemically-defined platform. The resulting CAR-neutrophils presented superior and specific cytotoxicity against tumor cells both in vitro and in vivo. Collectively, we established a robust platform for massive production of CAR-neutrophils, paving the way to myeloid cell-based therapeutic strategies that would boost current cancer treatment approaches.
---
Subject of Research
Cells
Article Title
Engineering chimeric antigen receptor neutrophils from human pluripotent stem cells for targeted cancer immunotherapy
Article Publication Date
19-Jul-2022