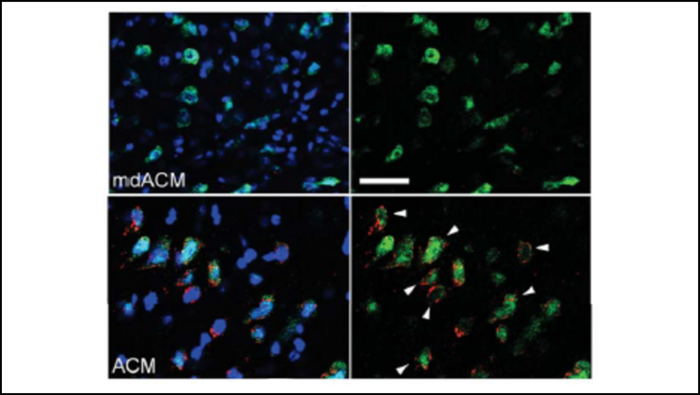 After a brain hemorrhage, neural support cells called astrocytes enhance healing by transferring their mitochondria to damaged neurons. The healthy mitochondria stimulate the production of a free radical-fighting enzyme, according to new research published in JNeurosci.
An artery in the brain bursts. Blood rushes into the tissue, inducing free radicals that cause even more damage. The hemorrhage damages mitochondria, the site of energy production in cells. Astrocytes transfer their mitochondria to damaged neurons after a hemorrhage. These healthy mitochondria contain a "healing" peptide called humanin and an enzyme called manganese superoxide dismutase (Mn-SOD) that help neutralize free radicals.
Tashiro et al. injected mice with healthy mitochondria after a hemorrhage. The hemorrhage reduced levels of Mn-SOD in the mice brain and increased the number of free radicals. Using molecular tags, the researchers found that the rodents' neurons took up the mitochondria from the bloodstream. The mice who received the treatment showed improved neurological recovery, but the benefits decreased if the mice received mitochondria without the Mn-SOD enzyme. These results reveal mitochondria can transfer between brain cells to improve health and aide recovery.
###
Paper title: Transplantation of astrocytic mitochondria modulates neuronal antioxidant defense and neuroplasticity and promotes functional recovery after intracerebral hemorrhage
Please contact media@sfn.org for the full-text PDF and to join SfN's journals media list.
About JNeurosci
JNeurosci, the Society for Neuroscience's first journal, was launched in 1981 as a means to communicate the findings of the highest quality neuroscience research to the growing field. Today, the journal remains committed to publishing cutting-edge neuroscience that will have an immediate and lasting scientific impact, while responding to authors' changing publishing needs, representing breadth of the field and diversity in authorship.
About The Society for Neuroscience
The Society for Neuroscience is the world's largest organization of scientists and physicians devoted to understanding the brain and nervous system. The nonprofit organization, founded in 1969, now has nearly 37,000 members in more than 90 countries and over 130 chapters worldwide.
---
Method of Research
Experimental study
Subject of Research
Animals
Article Title
Transplantation of astrocytic mitochondria modulates neuronal antioxidant defense and neuroplasticity and promotes functional recovery after intracerebral hemorrhage
Article Publication Date
15-Aug-2022