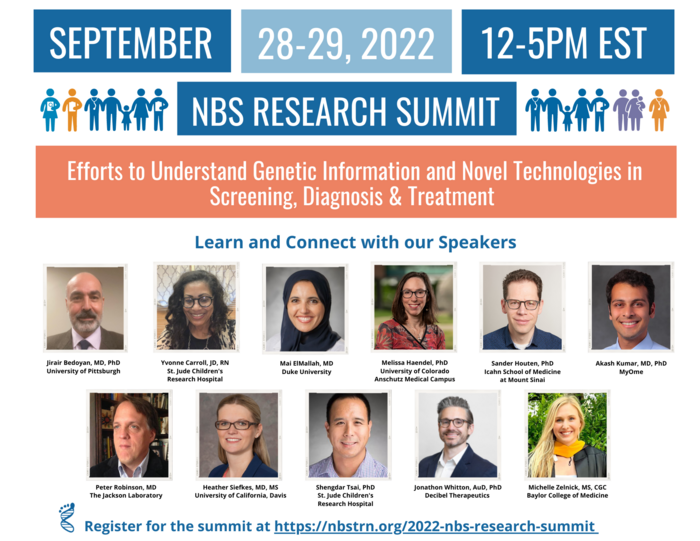 Meeting Announcement
NEWBORN SCREENING TRANSLATIONAL RESEARCH NETWORK
In celebration of Newborn Screening Awareness Month in September, NBSTRN is excited to host its annual 2022 Newborn Screening Research Summit: Newborn Screening Research: Efforts to Understand Genetic Information and Novel Technologies in Screening, Diagnosis & Treatment on September 28-29, 2022, from 12-5pm (EST).
The event is free, but you must register at https://nbstrn.org/2022-nbs-research-summit
The 2022 NBS Research Summit will showcase efforts to discover novel technologies to screen, diagnosis, and treat newborns with genetic conditions identified through newborn screening. Clinicians from five institutions will present their efforts to improve treatments in Glutaric Aciduria Type 1, Pyruvate Dehydrogenase Complex Deficiency, Spinal Muscular Atrophy, Duchenne Muscular Dystrophy, Critical Congenital Heart Diseases, and Sickle Cell Diseases. Clinicians and healthcare professionals working in industry will share their work to utilize genome sequencing to improve detection of hearing loss and other conditions. Advancements in information technology are also key to advancing newborn screening, and the summit will feature presentations on phenopackets to link phenotypic and genetic information as well as innovative approaches to organize genomic, phenotypic, and clinical data for medical care management.
Each day, five sessions will showcase the cutting-edge research in progress from experts in newborn screening research. Attendees will have an opportunity to chat with our speakers during the live Q/A session.
Meeting details: September 28-29, 2022, 12-5pm (EST). Additional information about topics, speakers, and activities can be found here.

To learn more about the speakers, read their bios, abstracts, and published papers of interest check out NBSTRN Forum. NBSTRN Forum is the membership portal designed for the NBSTRN network that enables you to connect, learn, and share!
Benefits of joining the NBSTRN forum:
Easy to use portal and tools let you create a professional profile and connect your colleagues conducting important research, clinical care, and public health efforts.
Central location for all communications with the NBSTRN staff.
Presentations and notes all in one place – no more time wasted searching for information or duplicating work.
Calendar of important events and NBSTRN activities.
Once in NBSTRN Forum, join the 2022 NBS Research Summit Circle to meet and connect with our speakers and other NBS colleagues.
2022 NBS Research Summit Speakers:
Jirair Bedoyan, MD, PhD – University of Pittsburgh
Yvonne Carroll, RN, JD – St. Jude Children's Research Hospital
Mai ElMallah, MD – Duke University
Melissa Haendel, PhD – University of Colorado Anschutz Medical Campus
Sander Houten, PhD – Icahn School of Medicine at Mount Sinai
Akash Kumar, MD, PhD – MyOme
Peter Robinson, MD – The Jackson Laboratory
Heather Siefkes, MD – University of California, Davis
Shengdar Tsai, PhD – St. Jude Children's Research Hospital
Jonathon Whitton, AuD, PhD – Decibel Therapeutics
Michelle Zelnick, MS, CGC – Baylor College of Medicine
---