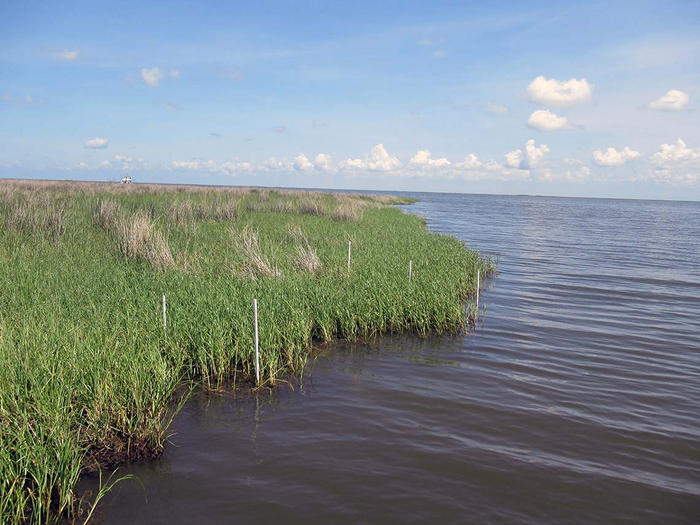 Scientists estimate that methane, as a greenhouse gas, may be responsible for approximately 20 to 25 percent of all global warming since the Industrial Revolution. Even more troublingly, as man-made sources have been reduced, the amount of the gas in the atmosphere has continued to grow, fed by natural sources.
Now, Louisiana State University researchers are joining a multi-institutional team to investigate factors affecting natural methane emissions, using a $2.91 million grant from the National Science Foundation. They will be working in a location close to home: Louisiana's coastal wetlands.
Coastal wetlands are estimated to account for about 40 percent of all methane effluent going into the atmosphere.
The project, headed by Annette Summers-Engel of the University of Tennessee Knoxville, includes LSU's Department of Oceanography & Coastal Sciences Professors Haosheng Huang, Dubravko Justic and Giulio Mariotti. They will be joining Brian Roberts and Marshall Bowles from the Louisiana Universities Marine Consortium, or LUMCON, Charles Schutte from Rowan University and Kevin Yeager from the University of Kentucky.
"This study will be in coastal Louisiana, which has almost 40 percent of all coastal, tidally influenced fresh and saltwater wetlands in the U.S., and these wetlands experience some of the highest relative sea-level rise rates in the world. Nearly 1 billion people around the globe live in proximity to similar coastal wetlands, so that the results of this research will have broad applicability to solving large-scale problems," Huang said.
The focus of the team's research will be the coastal marshes of Terrebonne-Timbalier Estuary, located near LUMCON. While wetlands are recognized as a source of methane effluent, they are in a constant state of flux, affected by rising seas, sediment accumulation and other factors, and the conditions creating methane emissions are not well understood.
"Processes that affect methane cycling… are poorly understood, particularly when we consider processes that we cannot see or measure, like those occurring in soil by microorganisms, or processes that are occurring over different time scales or at the landscape scale due to, for example, sea-level rise," said Engel, who is the principal investigator.
The team will take into account sea level rise as they examine factors currently affecting methane emissions from the marsh. They will test natural, microbial, landscape and hydraulic controls on the emissions.
As part of the grant, LUMCON will also be providing student and outreach activities to the public. LSU scientists and other researchers will provide a supporting role.
---