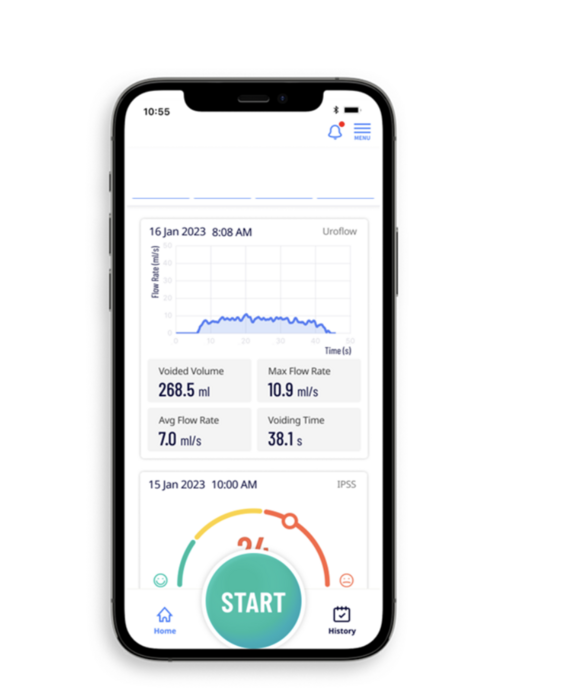 San Francisco, California (2/2/23)- Soundable Health and Valensa International are pleased to announce our collaboration on evaluating the progression and management of lower urinary tract symptoms (LUTS) using proudP, Soundable's FDA Class II mobile uroflow monitoring application.
Over the next 13 months, this collaboration will showcase the clinical usefulness and convenience of proudP in LUTS monitoring. By utilizing its capability of remote measurements of patients' uroflows at home, this collaboration will closely observe the progression of LUTS management in real life with the intake of Flomentum saw palmetto extract, a dietary supplement that promotes prostate and urinary health in men.
Catherine Song, CEO at Soundable Health said, "Flomentum, the USP verified prostate health supplement by Valensa International, has been an important addition to the market since its release. Given Flomentum's focus on educating and sampling patients through urologists across the US, proudP is perfectly positioned to capture insight into the use of Flomentum in a real-world setting and to obtain patient generated LUTS data remotely. We are excited to be part of this partnership that many people are truly interested in, and we look forward to sharing the outcomes of the collaboration."
"I'm very excited to see the use of a validated instrument like proudP to confirm the utility of the USP verified supplement Flomentum. It will be great to see real-world data confirm what we have seen clinically with Flomentum", says Leigh Vinocur MD, Chief Medical Officer of Flomentum.
With its outstanding accuracy validated and published in many peer-reviewed journal papers, proudP is now being adopted by more urologists and LUTS patients to monitor uroflows. We hope that this collaboration will clearly show the versatility and convenience of proudP, not only for patients or physicians but also for pharmaceutical or dietary supplement researchers.
Soundable Health
Soundable Health is a digital health startup that provides innovative health monitoring solutions using everyday sounds. With its unsurpassed AI sound analytics, Soundable Health is leading the discovery and development of new digital audible biomarkers that can be detected using smartphones. The new audible biomarkers pioneered by Soundable Health range across various medical fields, especially with underserved chronic symptoms including benign prostatic hyperplasia (BPH) in urology (proudP®) and respiratory cough symptoms (Coughy®). proudP® is an FDA Class II uroflow medical device mobile application used to monitor BPH. For more information, visit www.proudp.com
Valensa International
Valensa International is a leading innovator of pure, science-based, clinically effective nutraceutical solutions proven to benefit health and wellness. For 20 years, Valensa has partnered with nutraceutical,
food and pharmaceutical companies to bring condition-specific solutions for human and companion animal well-being to market. Valensa manufactures FLOMENTUM® saw palmetto extract, the first and only USP Verified prostate health supplement in the world. The company's commitment to safety, quality and the environment is represented by the United States Pharmacopeia (USP) Dietary Ingredient Verification Program, FDA Good Manufacturing Practice compliance and sustainability practices. Valensa is headquartered in Orlando, Florida, near a protected saw palmetto grove. Learn more at www.valensa.com or www.flomentum.com.
Media Contact
Jennifer Cho, Marketing VP, Soundable Health
Email: jcho@soundable.health
---