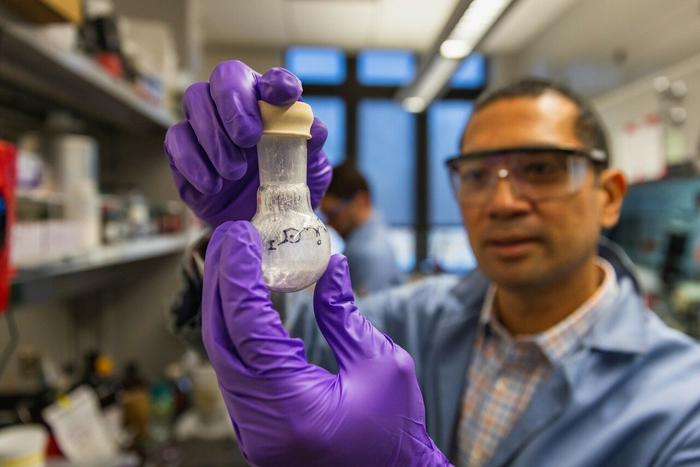 Virginia Tech Intellectual Properties (VTIP) with LINK + LICENSE + LAUNCH's Proof-of-Concept Program has provided the springboard for faculty to bring their research to market. Over the past four years, the program has funded 24 Virginia Tech research projects.
"We are excited to be able to support a larger group of proof-of-concept projects in this award cycle," said Mark Mondry who leads LAUNCH. "Several of the Virginia Tech faculty-led projects in this round include collaborations with students, industry partners, and other academic institutions, bringing diverse perspectives to the project to allow for more robust outcomes."
In this cycle, the program funded 12 teams led by Virginia Tech researchers with a total of $600,000 in funding. The following projects were selected:
Power Line Robot
Oumar Barry, associate professor of mechanical engineering
Andrew Choi, masters student in mechanical engineering
Paul-Camille Kakou, Ph.D. candidate in mechanical engineering
The U.S. power grid, more than 150,000 miles long, is more than 50 years old. Power lines are exposed to harsh environments and wind-induced vibrations that limit their lifespan. The funding will support the commercialization of an autonomous robot for improving the reliability and resilience of the power grid that will integrate with the Smart Grid to provide autonomous inspection, real-time data monitoring, and vibration control of power lines.
Treating Chronic Kidney Disease
Webster Santos, professor of chemistry
Kevin Lynch, professor and vice chair of pharmacology, University of Virginia (UVA)
Mark Okusa, the John C. Buchanan Distinguished Professor of Medicine, UVA
Andrew Bage, postdoctoral fellow, Santos lab
Approximately 37 million U.S. adults are afflicted with chronic kidney disease, costing the health care system $84 billion per year. The disease is a progressive decline in kidney function that culminates in end-stage renal disease, which necessitates renal replacement therapies such as hemodialysis or transplant. New drugs that halt or delay progression of the disease in the end stage are needed. With the funding, the Santos and Lynch labs will develop inhibitors to improve the kidney fibrosis that characterizes the disease.
Advancing Personalized Medicine for Brain Tumors
Caleb Stine, postdoctoral research associate, Munson lab
Jennifer Munson, associate professor of biomedical engineering, Fralin Biomedical Research Institute at VTC
Jessica Reynolds Cunningham, research scientist, biomedical engineering
Ryan Woodall, assistant research professor of computational and quantitative medicine, City of Hope National Medical Center
Russell Rockne, associate professor of computational and quantitative medicine, City of Hope National Medical Center
Cairina, a spinoff company between the Munson lab and City of Hope's Division of Mathematical Oncology in California, is developing software to predict where brain tumors are likely to progress and recur based on fluid flow in the body. These predictions will inform clinicians on targeted treatment strategies for patients, giving surgeons more precise tumor regions to remove or areas in which to administer higher doses of radiation. This is especially important as survival rates remain low for patients with advanced brain tumors and this number hasn't changed substantially in the last two decades.
Multifunctional Nano-optics Dressings to Detect, Prevent, and Treat Chronic Wound Biofilm Infections
Aditya Garg, Ph.D. candidate, Bradley Department of Electrical and Computer Engineering
Wei Zhou, assistant professor of electrical and computer engineering
Peter Vikesland, professor of civil and environmental engineering
Erin Gloag, assistant professor of biomedical sciences and pathobiology, Virginia-Maryland College of Veterinary Medicine
Matthew Hull, president/founder NanoSafe Inc. and director of Virginia Tech's Nanoscale Characterization and Fabrication Laboratory
Aileen Helsel, director of innovation, Carilion Clinic
Pathogenic biofilm infection is the most common complication of chronic wounds and can lead to the impairment of healing processes, amputation, and mortality. Existing chronic wound management methods require frequent removal of dressings for diagnosis and treatment-related needs, resulting in poor clinical and economic viability. To address this issue, the team has developed smart wound infection management dressings with combined biosensing and therapeutic functions to monitor, prevent, and treat infectious biofilms in the wound. The nano-optics enabled technology can provide rapid, wireless, and on-demand wound biofilm infection management without the need for frequent removal of dressings.
Contactless Light-induced Dielectrophoresis Toward Universal Adoption of Microfluidics
Josie Duncan, Ph.D. student, mechanical engineering
Rafael Davalos, L. Preston Wade Professor of Biomedical Engineering and Mechanics
Cell manipulation, sorting, and analysis has many applications from tissue engineering to drug assessment. Cells, with unique electrical properties, can be manipulated with an electrical field. When used correctly, light projections can be used to generate that electric field in virtually any geometry. Instead of using physical microscale structures that are difficult to manufacture, the duo will use light to tell a cell where to go and focus on keeping the sample sterile, viable and unlabeled for downstream culture and assays.
Conjugated Linoleic Acid Functional Foods for Disease Treatment
Deborah Good, associate professor of human nutrition, foods, and exercise
Sean O'Keefe, professor of food science and technology
Shadi Ariyanfar, Ph.D, human nutrition, foods, and exercise
Jacob Lahne, assistant professor of food science and technology
Melissa Wright, director of food producer technical assistance network, food science and technology department
Daniel Miglia, owner and chef, Hick'ry Ridge Management
Conjugated Linoleic Acid (CLA) was initially identified in 1987 as an anti-cancer compound from beef. Over 10 years ago, Good and colleagues were the first to show that CLA could treat genetic obesity in a mouse model of adult-onset obesity. More recently, the team showed that CLA in food could prevent fat gain in a mouse model of Prader-Willi Syndrome, a human genetic condition with later onset-obesity, pubertal delay and small gonads (hypogonadism) and that hypogonadism in mice was "cured" when the mice consumed CLA-containing food daily for 12 weeks. Both findings are part of two U.S., and one international patent application. This funding seeks to identify commercial opportunities for CLA functional foods in both the medical market and consumer health/lifestyle market.
Prototyping and Market Development; Microbes, Crops and Sustainable Agriculture
Mark Williams, professor of plant and environmental sciences
Aleks Halili, Ph.D. student, plant and environmental sciences
Ali Sahadat, Ph.D. student, plant and environmental sciences
John May, founder, Greenswell Growers
Food is the elixir of human life, both dominating our physical health and social well-being. Humanity has become good at producing food, but the current high-input systems that are needed to feed 8 billion-plus people are gravely unsustainable. Synthetic fertilizers are the centerpiece of these cropping systems and also a large part of the problem. They are expensive, energy-intensive, and an environmental threat to drinking water, global fisheries, and global climate change. Alternatively, these problems can be greatly offset by developing sustainable growth-promoting microbiome technologies. The team will develop a microbial "bio-fertilizer" technologies to solve these pressing problems.
Quantitative Approach and Departure Risk Assessment Tool for Unmanned Aircraft Systems
Robert Canfield, professor of aerospace engineering
Robert Briggs, chief engineer, Institute for Critical Technology and Applied Science and the Virginia Tech Mid-Atlantic Aviation Partnership
Priyanka Savla master's student, computer science
The Federal Aviation Administration and Department of Defense services' airworthiness offices are developing new procedures to certify unmanned air vehicles (UAVs), or drones, for commercial and military use, respectively. A challenge is demonstrating an equivalent level of safety to manned flight, especially over population centers and beyond visual line of sight. The burgeoning cohort of UAV operators and service providers for UAV operations also are seeking to assure the safety of third parties on the ground during UAV flights. With this funding, the team will explore the prospect of commercializing quantitative approach and departure risk assessment for UAV operational safety and flight planning.
Fibrous Engineered Living Materials for Rapid Pathogen Threat Detection
Bahareh Behkam, associate professor of mechanical engineering
Amrinder Nain, associate professor of mechanical engineering
Naimat Bari, postdoctoral researcher, mechanical engineering
Early and rapid detection of disease-causing microbes (pathogens) is in high demand in various application spaces, including detecting infections, bioterrorism threats, and air/water/food contamination. The current gold standard in pathogen detection entails sample collection, transfer to a specialized laboratory, preparation, and analysis. These methods require many hours or days of analysis, and the lag time from sample collection to result can prevent timely implementation of cost-saving or life-saving measures. Behkam and colleagues have developed an easy-to-use, affordable, rapid, and sensitive pathogen detection system that advances the current state of the art. Their patent-pending nanofiber-encapsulated living biosensor technology reduces the time from infection to detection, thereby offering the opportunity for immediate implementation of containment and mitigation measures. The funds will be used to evolve the existing prototype into a more robust device, conduct comparative analyses with existing gold standards, and engage in customer discovery.
Audio Navigation System for People with Vision Impairments
Luis Borunda, visiting assistant professor of practice in architecture
Na Meng, associate professor of computer science
Andrew Gipe-Lazarou, visiting instructor in architecture
Manuel Ladron de Guevara, Ph.D. candidate, computational design, Carnegie Mellon University
Demand for improvements in the assistive technologies market, which has yet to be disrupted by advances in artificial intelligence, continues to grow, presenting increased potential for design innovations, emerging scholarship, and commercial partnerships. The team's groundbreaking project, NAVIGAID, aims to empower millions of visually impaired individuals to navigate their surroundings with greater confidence, independence, and enthusiasm. Their system will provide a unique and superior alternative to existing navigation aids which remain costly and cumbersome, requiring live video calls and GPS-data. Combining cutting edge technologies in computer vision and deep learning, the product will capture and detect objects in the environment and provide automated, user-customizable audio descriptions in real-time, manifesting a rich, reliable, and otherwise-inaccessible experience of space. We are proudly committed to addressing the challenges of visual-impairment, and look forward to further developing our product's transformative potential.
Prototype Refinement and Customer Discovery for Bystander Privacy in Augmented Reality Systems
Brendan David-John, assistant professor of computer science
Bo Ji, associate professor of computer science
Y. Charlie Hu, professor, electrical and computer engineering, Purdue University
Jicheng Shang, assistant professor of computer science, Montclair State University
Matthew Corbett, Ph.D. student, computer science
Augmented reality (AR) devices are set apart from other mobile devices by the immersive experience they offer. While the powerful suite of sensors on modern AR devices are necessary for enabling such an immersive experience, they can create unease in bystanders (i.e., those surrounding the device during its use) because of potential bystander data leak, which is called the bystander privacy problem. In this project, the team will develop and commercialize BystandAR, the first practical bystander privacy protection system. The funding will help the researchers learn how to perform customer discovery in the commercialization process, and to demonstrate the feasibility of the proposed system as a marketable product.
Edamame Seed Commercialization for Mid-Atlantic Region
Bo Zhang, associate professor of plant and environmental sciences
Catherine Larochelle, associate professor of agricultural and applied economics
Patrick Bewick, Ph.D. student, plant and environmental sciences
Edamame, or vegetable soybean, is a specialty crop that offers high-quality plant protein to a market that is increasingly interested in non-meat options. However, domestic production has not risen to meet consumer demand, partially because of a lack of cultivars developed for U.S. production, and a majority of edamame consumed in the U.S. is imported as frozen products. A Virginia Tech release, "VT Sweet," has high consumer acceptability with a wide adaptation in the mid-Atlantic region. This variety can remedy the lack of adapted cultivars that are sold on the shelf in local gardening stores. The home gardening market offers a perfect opportunity to introduce VT Sweet to a large, steadily increasing consumer base with 18.3 million new home gardeners in 2021 alone. The goal for this project is to survey consumers to understand how they accept new specialty crops for planting in their gardens, how they perceive our branding and our variety's performance, and their willingness to pay for our product.
---