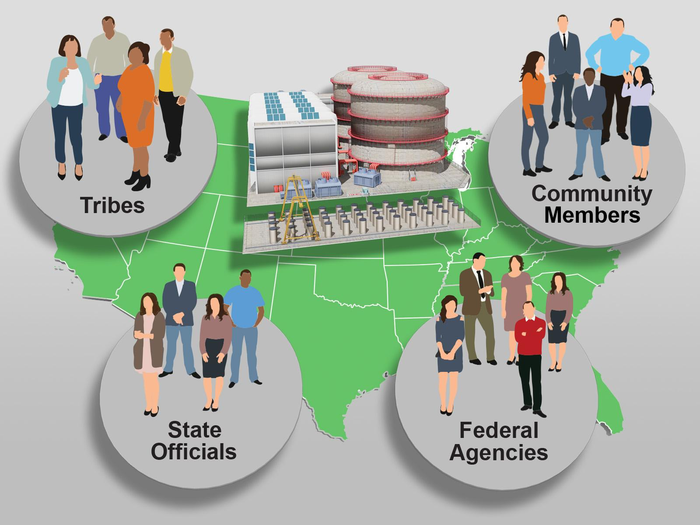 By Kimberlee Papich
Nearly 10 years ago, nuclear engineer Steve Maheras and five other nuclear experts set out on an ambitious journey—a several-hundred-mile road trip to evaluate three closed nuclear power plants in three days. At the time, they had no idea the precedent they were setting would form a standard for evaluation that would prove valuable for years to come.
"We each had our own areas of expertise, but there was commonality in wanting to look at the sites' spent nuclear fuel conditions and explore the surrounding communities," says Maheras, an expert in Pacific Northwest National Laboratory's (PNNL's) Nuclear Sciences Division. "I think back on it now and it makes me smile, the optimism and energy we had to evaluate three sites in three days, but the trip turned out to be the jumping off point for critical work that continues today."
Their trek to Maine Yankee Nuclear Power Plant, Yankee Rowe Nuclear Power Station in western Massachusetts, and Connecticut Yankee Nuclear Power Plant ultimately provided a framework for future power plant site evaluations to identify gaps in information needed to ship radioactive waste. The U.S. Department of Energy (DOE) would come to prioritize these evaluations for their value in assessing site and transportation infrastructure and the transportability of spent nuclear fuel while also garnering community feedback via stakeholder engagement.
Bringing together the right kinds of experts
Things have come a long way since those first site visits. Currently, Maheras and various colleagues have completed a total of 16 nuclear power plant site evaluations and one virtual evaluation. Outcomes from their visits were published in an April 2021 report to DOE titled, "Nuclear Power Plant Infrastructure Evaluations for Removal of Spent Nuclear Fuel."
Within its pages, Maheras and colleagues:
confirm aspects of waste inventories at sites
share detailed inventory data
catalog transportation infrastructure at and near sites
index detailed photos
represent engagement with tribes and local communities.
All 17 sites were found to have at least one option for off-site transportation to remove their spent nuclear fuel, with some sites having multiple options. Importantly, the visits prioritized engagement with state and tribal partners and many other stakeholders, with their voices informing the site evaluations.
These findings would have remained elusive had it not been for Maheras and colleagues' 2012 road trip and its collaborative and inclusive spirit. Ultimately, the report reflects nearly 10 years of careful dedication at PNNL to bring together the right kinds of experts, including local communities and tribes, to effectively plan for accepting and transporting fuel away from the reactor sites.
Says Maheras, "as I reflect on the collective approach of these site evaluations and PNNL's ability to bring to the table not just the nuclear experts, but also to include our federal, state, and tribal partners, I credit any achievements to these varied parties coming together and their resulting collaboration."
A clear understanding of spent nuclear fuel science and technology
What is spent nuclear fuel?
Nuclear technology has been used in the United States for decades for national defense, research and development, and carbon-free electric power generation. Nuclear power is a key element of the U.S. response to climate change and reducing greenhouse gas emissions. However, nuclear energy, as an essential form of electricity production, generates radioactive waste in the form of spent nuclear fuel. For example, commercial electricity generation nationally produces spent nuclear fuel at a rate of approximately 2,000 metric tons of uranium per year.
Spent nuclear fuel must be handled, stored, and ultimately disposed of in a manner that won't harm the environment. Although small amounts of non-commercial spent nuclear fuel are routinely shipped across the country, most spent fuel is temporarily stored at the commercial and DOE-managed sites where it was generated.
As DOE continues to make progress toward finding a spent nuclear fuel disposition solution, commercial spent nuclear fuel remains stored at 74 reactor or storage sites in 34 states. With its expertise in cultivating the engagement and logistics needed for spent nuclear fuel's transport, as well as a clear understanding of spent nuclear fuel science and technology, PNNL is a key player in supporting DOE in this process.
Engagement with local tribes and communities
PNNL's site evaluations evolved to keep pace with the national landscape and need for collaboration. They have allowed for more time associated with visits—from one day to three days. Advice and input from additional team members—especially state and tribal partners—proved crucial. This aligns with DOE and PNNL's support of environmental justice to assure meaningful involvement for all people, regardless of race, color, national origin, or income. To support broader engagement, organizers expanded the number of participants per evaluation from six to 30, accounting for representation from groups like the Consolidated Group of Tribes and Organizations/Pahrump Paiute Tribe, the U.S. Army Corps of Engineers, the Federal Railroad Administration, the U.S. Coast Guard, and more.
Coordinating the logistics for this many travelers can be onerous, taking up to six months. The COVID-19 pandemic also ushered in additional challenges, requiring at least one site evaluation be held virtually. But Erica Bickford, a DOE Office of Nuclear Energy scientist and program manager, believes it's worth it—especially as it relates to local community and tribal involvement.
From her purview in overseeing the site evaluation work for DOE's Office of Integrated Waste Management program, Bickford states, "engagement with local tribes and community representatives is an important part of these evaluations. The DOE site evaluation team values the time we get with these stakeholders and tribal members, and we hope they know how much we appreciate their voices. They're critical in helping us to understand site-specific challenges and opportunities for getting this waste shipped out."
Singular expertise in evaluating spent nuclear fuel near-site transportation infrastructure
The team also proved its nimbleness in recommending, implementing, and ultimately demonstrating new methods and measures. Emerging technology and instrumentation are being leveraged by Maheras and team to expertly document site conditions during evaluations. The team uses GPS-enabled cameras to add geographical coordinates to photographs. A dashboard-mounted camera is used to film transportation routes for high-quality video output. Web-based, open-source applications like Google Earth are paired with GIS data to help the team fully visualize the layout of each site. This includes generating detailed maps that portray locations to transfer container cargo, or transload locations, and rail and heavy-haul truck routes.
Team members also participated in an exhaustive research process to innovate how they capture quantitative details and better mine for existing documentation. This resulted in significantly more data at their fingertips, particularly information retrieved from DOE documents and databases, nuclear industry sources, site managers, and heavy equipment lifting, rigging, and transporting companies.
They incorporated these tools and information as part of their singular expertise in evaluating near-site transportation infrastructure. Evaluators are now able to consider national, regional, and short-line rail access, as well as the condition and capacity of rail infrastructure. They probe for site experience with rail shipments and identify locations for potential transloads. Local roads and highways are evaluated for distance to rail spurs or sidings. Characteristics and conditions of roads are assessed for heavy-haul vehicle use. Site evaluations also account for barge access and the characteristics of nearby docks, slips, and shorelines. All of this results in spent fuel and waste disposition information that complements the qualitative data received via external engagement.
Inherent safety
Central to external engagement, site evaluators typically encounter a number of common misconceptions. Mark Nutt, PNNL Nuclear Market sector manager and radioactive materials expert, feels the site evaluation teams have been successful in assuaging many of the common apprehensions heard during public meetings.
"They hear from a lot of people who mistakenly believe that spent nuclear fuel has never been transported across the U.S., but in truth, over the last 55 years, more than 2,500 shipments were made across America without any harm to the environment or to the public," says Nutt. "It's a well-coordinated process with a great track record. In the instance of large-scale transport of commercial spent nuclear fuel, we just need to understand where it will be stored long-term and allow for external engagement."
Foundational to interim and long-term spent nuclear fuel storage are safety discussions.
Continues Nutt, "safety is inherent to how the fuel is shipped. Whether by road, rail, or waterway, the fuel is encased in transportation casks that are designed to withstand more than 99 percent of vehicle accidents.
"And, the waste is actually in a solid form, yet many individuals express concerns about a 'spill,'" elaborates Nutt. "In meetings with community, the team that supports DOE provides details like this, and that the chances of a spent nuclear fuel container releasing radioactive material is less than one in one billion."
Public meetings are an opportune time to share results from site evaluations; the same type of data shared in the recent report to DOE. The meetings are also a great forum to share objectives for site evaluations down the road and plan for future engagement.
A transformative lens to aid in eventual transport
In the months and years to come, PNNL will continue to apply a transformative lens to its collection of site condition data to aid in eventual transport.
Concludes Bickford, "PNNL's expertise in spent fuel transportation and in convening the necessary stakeholders is conducive to DOE's ongoing close coordination with state and tribal governments and communities, which is key to future commercial spent nuclear fuel transport that is safe and uneventful."
The years since those first site evaluations represent an evolution in how evaluations are conducted, reflecting an approach that is more innovative, and, notably, more inclusive.
"The more community engagement, the better," says Maheras. "For the communities who have inherited these nuclear power plant sites, this is how we can best understand their concerns and address them when it's time to safely accept and transport fuel away from these reactor sites."
###
---